Commercial Locksmith Services
Surf Commercial Locksmith Redondo Beach is an industry innovator when it relates to all aspects of locksmith services. Protecting your home, workspace, business premises, merchandise, documentation, and other important belongings should be a number one concern for any business. Very often businesses get targeted for break-ins and burglary. We are here to offer you the latest technology in order to prevent your property from becoming another statistic. Redondo Beach neighborhood customers can rest easy knowing that any time they use our locksmith services they can feel secure. So, whatever locksmith service you need, whether it's residential, automotive, or commercial, we are here for you. We offer around-the-clock, 7 days a week, and 365-days a year service. Ultimately, when you need service, you know who to call! (424) 672-1022.
The Service You Deserve
Make sure to let us know if we've missed any services you might need here. At Surf Locksmith we do all kinds of locksmith services ranging from automotive up to commercial. To each service lead, we send informed, expert individual technicians who arrive in our work vehicle. They are fully able to cater to all kinds of needs, once locks and keys are involved. They come complete with every tool, locks, equipment, and machinery as well as a variety of stock and high-quality products.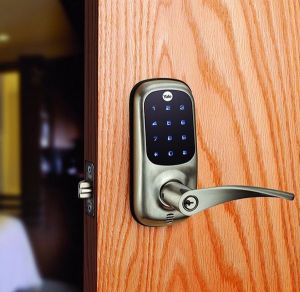 Highly requested Commercial Services:
24-hour commercial lockout
Master Key Systems
Alarm System
Re-keying
New Lock Installations
Key Fob
Biometric
Swipe Card
The Best Commercial Locksmith Services.
Surf Commercial Locksmiths are fully bonded, licensed, and insured, so no need to worry about unexpected damages- we cover you. Surf Commercial Locksmith will work alongside our clients, listening to your needs and requirements. Additionally, we are making educated decisions that fit your business needs, location, type, and budget. We ensure that you get the best possible solutions for the best possible price. You can also take advantage of our free safety/security inspection whilst our technicians are on site. They will be able to tell you if you have any weak points or areas that need updating. So consult Surf Commercial Locksmith Redondo Beach for all your business needs!